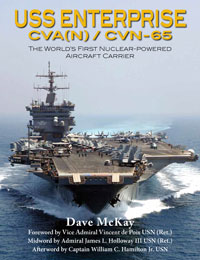 US Naval Historical Foundation Book Review
David McKay has done a marvelous job in writing this book. It is recommended to anybody who studies naval history. I have read books on the aforementioned subject for over 50 years, but I have never found such a well-done book as that done by Mr. McKay. To be honest, I can find nothing wrong with the book.
Reviewed by Samuel Loring Morison, a former naval officer, writer and naval historian in his own right who served in the Vietnam War.
Read Review on NavyHistory.org...
Tailhook Association Review
This is one of the best books I have ever read. Dr Dave McKay's passion for the Enterprise really showed through and he also brought the book to life by having the crew and air group members tell their stories. Great chapter on the fire. The publisher is to be complemented too as this is one of the best laid out and produced books I have seen in a long time. Loved all the pictures and insignias put in the book. The only complaint I have is it is heavy to read in bed.
CDR Doug Siegfried, USN,(Ret), Associate Editor, Tailhook Association
USS Enterprise Book now available in Europe and UK
Hamburger Modellbaubogen Verlag - Original German Review
Hamburg Modelers Review - English translation
The HMV brand is well known for paper models in perfect quality and design, accuracy and love of detail, beautiful technical and architectural models.

HMV links http://h-m-v.de/ - German http://h-m-v.de/index.php?id=1&L=1 - English
Time and again we have wondered why no one has really brought out a truly comprehensive book on the aircraft carrier USS Enterprise long ago. The theme really gives much so much that one could write a whole book series about it. And now there really is a tome here with us on the table. All deployments are precisely documented including lots of pictorial material, and the appointed air wings are listed and pictured as well. Dr. McKay included not only a lot of photographs but also many insignia all his chapters. This comprehensive work is surely worth its price.
USS Enterprise Model link - http://h-m-v.de/us_navy.0.html?&L=1
USS Enterprise Book Purchase - Europe and UK -
http://kartonmodellbau.de/shop/article_300101/USS-Enterprise-CVA(N)-_-CVN-65.html
Book Review - Ray H Godfrey
Ray H Godfrey, as an Enterprise plank owner on board July 1961-July 1966, was an Engineering Department "Navy nuke" during his five years aboard Enterprise. Godfrey served the USS Enterprise (CVAN/CVN-65) Association from 1986 to 2012.
Facebook Pages
USS Enterprise (Navy Facebook)
USS Enterprise - Willsonscott Facebook page
Official Navy Pages etc
USS Enterprise (Local) Navy site
US Navy Enterprise Photo Archive
USS Enterprise CVAN-CVN-65 Association - See the Association Spring Offer - US $99
Author profile
Dr Dave McKay, Dunedin, New Zealand and overview article from The Otago Daily Times
TV3 News
See New Zealand's TV3 news interview of Dr Dave McKay and his experiences on multiple visits to the USS Enterprise CVN65 in the writing of his tribute to this great ship and her crews.
TV3 item on Dr Dave McKay's book...

See extracts from this new book on this fantastic ship from launch to inactivation. With a Dunedin (NZ) author Dr Dave McKay and a New Zealand Publisher this book was printed in June 2013. Distribution began in the USA late July 2013. Coming from so far away, with 700 pages and more than 700 colour images this is a wonderful tribute to a fantastic ship and great crews.

Hard cover with dust jacket; cover size is approximate, 126 gsm paper, dimensions 10.5 inches tall by 8 inches wide(266mm x 203mm), weight 5.5 lbs (2.5 kgs)

Some Downloadable Chapter Extracts below at bottom of page
Retail US $125 ,
Your Special Price $99 incl P&P
within continental United States
| | |
| --- | --- |
| Contents | |
| Acknowledgments | 7 |
| Foreword Vice Adm. Vincent de Poix, USN (Ret.) | 11 |
| Introduction | 15 |
| Part I | |
| Chapter 1: Welcome to the World – A New Star is Born | 19 |
| Chapter 2: The Ship – "Starship" Enterprise | 41 |
| Chapter 3: The Crew – Big E's Lifeblood | 63 |
| Chapter 4: The Sensors and Nerves | 107 |
| Chapter 5: The Refits – Keeping Big E "Ship-shape and Bristol Fashion" | 157 |
| Chapter 6: The Air Wings | 195 |
| "Midword" Adm. J. L. Holloway III, USN (Ret.) | 221 |
| Part II | |
| Chapter 7: The Early Years 1962–1964 | 239 |
| Chapter 8: The Vietnam Years 1965–1970 | 273 |
| Chapter 9: The Fire 1969 | 315 |
| Chapter 10: From Vietnam to the Middle East 1971–1990 | 353 |
| Chapter 11: Back in the Atlantic, Back in the Med, and Back in the Middle East 1990–2011 | 409 |
| Chapter 12: The 1998 Deployment: JTG-99.1 – A Cruise in Focus | 453 |
| Chapter 13: Images from the 1998–1999 Cruise – A Photo Essay | 507 |
| Chapter 14: The Sunset Cruise of USS Enterprise (CVN-65) | 559 |
| Epilogue (Full Extract) | 623 |
| "Aftword" Capt. W. C. Hamilton Jr. | 627 |
| Appendix 1 Enterprise facts and figures | 631 |
| Appendix 2 Commanding Officers | 632 |
| Appendix 3 Big E Shipmates lost and taken Prisoner of War | 633 |
| Appendix 4 Enterprise Awards to 2010 | 635 |
| Appendix 5 Major Operations, Campaigns and Exercises | 636 |
| Appendix 6 Available details of Operational and Combat losses associated with Enterprise Ops | 638 |
| Appendix 7 US Navy Ranks, Rates, and Ratings | 645 |
| Appendix 8 Fleet Carrier Air Wing Tail Codes | 647 |
| Glossary of Terms and Acronyms Associated with US Navy, Naval Aviation, and USS Enterprise | 648 |
| Bibliography | 656 |