Your shopping cart is empty!
Budding Authors
Being a publisher, we receive many manuscripts (unpublished novels etc) with a request to review and hopefully publish.
With the world being so much more connected online now and the fact that many budding authors do not have the resources nor connections to promote and publish their stories, we thought we could help provide a platform for them on our website to get this exposure and feedback.
Click on the book for details on the author, story, and to read some of the story.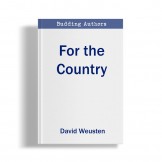 This is a Budding Authors product. You can download a FREE sample chapter and once you have read t..
Options: Chapter: Next Avaliable Chapter;
Publisher/Supplier: Budding Authors
Model: FTC-DW
SKU: FTC-DW
Author: David Weusten
Stock Status: Instock
Product Quantity: 1
Views: 613
Date Available: 2020-05-07
Requires Shipping: No
Showing 1 to 1 of 1 (1 Pages)