Your shopping cart is empty!
Poetry
Over the decades David has written a few poems, some now could be described as comic verse, others thoughtful and many for girls he has loved and the one he married.
Will you be willing to share yours?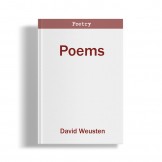 This is a Budding Authors product. You can download a FREE sample chapter and once you have read t..
Options: Chapter: Next Avaliable Chapter;
Publisher/Supplier: Budding Authors
Model: POEMS-DW
SKU: POEMS-DW
Author: David Weusten
Stock Status: Instock
Product Quantity: 1
Views: 56
Date Available: 2020-12-14
Requires Shipping: No
Showing 1 to 1 of 1 (1 Pages)