Your shopping cart is empty!
Search
Search Criteria
Products meeting the search criteria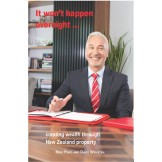 'It won't happen overnight…' takes you through the process of getting started in property investment in New Zealand. Mike Pero and David Weusten step you through almost everything a successful propert..
Publisher/Supplier: Willsonscott
Model: iwho
SKU: 186
ISBN: 9781877427589
Author: Mike Pero & David Weusten
Stock Status: Instock
Product Quantity: 20
Views: 15394
Sales: 1
Date Available: 2017-09-27
Weight: 1kg
Dimensions (L x W x H): 148 x 210 x 10 mm
Requires Shipping: Yes
NZ$19.95
Ex Tax: NZ$17.35
Showing 1 to 1 of 1 (1 Pages)
Blog Search Result
There is no article that matches the search criteria.